Oscar Knox unable to have specialist medical treatment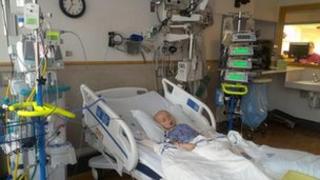 The family of four-year-old Oscar Knox, who travelled to the US last week for specialist medical treatment, say he is now unable to complete it.
Posting on Twitter, his family said he had been admitted to an intensive care unit with pulmonary hypertension.
Oscar, who was diagnosed with neuroblastoma, a form of cancer, was due to begin his treatment on Monday.
He won the hearts of people across the world after setting up a twitter account to update people.
The family posted on his Twitter account on Wednesday that the aim was now to stabilise him and get him back to Northern Ireland as soon as possible.
In an update on Thursday, his family posted: "Oscar doing really well this morning. The night (so far) couldn't have gone much better! So proud of him. Such a fighter."
Last week the County Antrim family reached their £250,000 fundraising target to pay for the immunotherapy treatment.
His family left Mallusk on Friday to start Oscar's six month treatment plan in Philadelphia.
The aim of the immunotherapy therapy treatment was to clear up any neuroblastoma left in his body.
His parents said the treatment would have boosted his immune system to fight the cancer if it was ever to come back.
In just over three months the family and their supporters raised the £250,000 needed to begin treatment in the United States.
Oscar has had a number of celebrity supporters including Olympic medallist Paddy Barnes, Westlife singer Nicky Byrne, the late Ulster rugby player Nevin Spence and Girls Aloud singer Nadine Coyle.