Translink subject of Stormont inquiry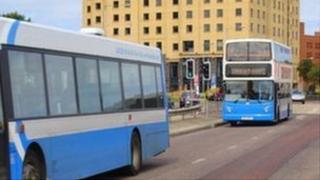 The Regional Development Committee at Stormont is to hold an inquiry into public transport company Translink.
The publicly-funded company is anticipating losses of about £22m over the next two years.
Last week the committee was critical of Translink's executives, including their salary and benefits packages.
The inquiry was described by UK Independence Party MLA David McNarry as "full-blown". Its terms of reference are still being finalised.
It is anticipated that Translink will make a profit of £2m this year (2012-2013) but will then start to make significant losses with a deficit of £11.6m expected in 2013-2014, and £10.5m the following year (2014-15).
The DRD had expected the company to prepare a plan which would allow it to break even financially across the group which includes NI Railways, Metro and Ulsterbus.