Sean Quinn Jr appeal: Judgement reserved in Dublin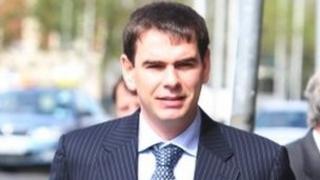 The Supreme Court in Dublin has reserved judgement in an appeal by Sean Quinn Jr against his conviction and imprisonment for contempt of court.
Mr Quinn was jailed for three months in July for breaching orders aimed at stopping him interfering with Quinn International Property Group assets.
A judge ruled he was in contempt for putting millions of pounds worth of international property beyond the former Anglo Irish Bank's reach.
Five judges heard his appeal.
Lawyers for the Irish Bank Resolution Corporation (IBRC) - which took over the Anglo Irish Bank - told the court there could be no doubt about the decision to jail him in the light of new evidence brought to the Supreme Court.
But Mr Quinn's legal team said the High Court had failed to set out any evidential basis for the finding of contempt and said his imprisonment was wrong.
Billionaire
At the height of his success, Mr Quinn, from Fermanagh, was the 12th richest man in the UK. The family controlled businesses worth billions of pounds and employed thousands of people.
In April 2011, control of the Quinn business empire passed into the hands of the IBRC. It claims the Quinns owe it about £2bn following the collapse of Anglo Irish bank.
The IBRC is trying to recover the money from their property assets on behalf of Irish taxpayers.
The elder Sean Quinn and his nephew Peter Darragh Quinn were also convicted of contempt of court along with Sean Quinn Jr.
Sean Quinn Sr was not given a jail sentence while Peter Darragh Quinn did not turn up in court for sentencing and remains in Northern Ireland.