Ulster Bank says £18m paid out so far in compensation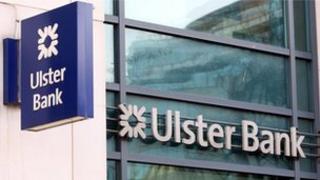 More than £18m has been paid out in compensation to 300,000 people in Northern Ireland affected by a computer glitch, Ulster Bank's boss says.
The bank's chief executive Jim Brown told a Stormont committee that it had been a "major disaster" for the bank.
But he stressed that not all of its 800,000 customers in Northern Ireland had been affected.
Thousands were unable to withdraw cash or access their accounts for weeks after a software upgrade on 19 June.
The £18m received by 300,000 customers works out as £60 per person. Of those, 150,000 received a flat rate payment of £20.
Mr Brown told Stormont's Enterprise Trade and Investment Committee: "It's true that the incident was a major disaster, there's no doubt about that from the bank's perspective.
"It's also clear that we had issues with regard to the contingency plan relating to our systems operating as they should have."
'Unprecedented'
He added: "What happened over the summer was unprecedented in the RBS Group. I want to acknowledge once again that the level of service provided to our customers during this period was unacceptable and that it caused widespread frustration and inconvenience."
He said the scheme Ulster Bank had put in place to compensate customers would not be closed and further applications would be looked at.
"We understand the impact of this matter and have been working tirelessly to put things right for customers and to rebuild their confidence and trust," he said.
William Higgins, of RBS, and Ulster Bank's head of retail banking, Stephen Cruise, also appeared before MLAs.
Bank executives last faced the committee on 6 July.
In July, Ulster Bank executives promised that a compensation scheme for customers was in the pipeline and that has now been put in place.
Customers received £20 in compensation if they had visited the bank between 19 June and 18 July and made a transaction.
The bank also said it would reimburse all of what it termed "reasonable out-of-pocket expenses" resulting from the major disruption.
It has since been criticised by politicians, business leaders and consumer bodies for initiating only a reimbursement scheme rather than offering any wider compensation.
Daithi McKay, of Sinn Fein, said members had gained the impression from Mr Brown, after his last committee appearance, that an announcement on compensation would come within days.
Mr McKay said eight weeks passed before an announcement was made on compensation "and I think that's absolutely scandalous".
"We felt extremely misled by the comments in July and August," he added.
Mr Brown said "the timeframe" took longer than the bank had expected.
The DUP's Robin Newton said the Federation of Small Businesses had described the general perception of the bank's compensation offer as "derisory".
Branch closures
Bank official Stephen Cruise said the initial emphasis following the compensation announcement had been on a figure of £20.
Paul Girvan of the DUP asked about branch closures.
Mr Brown said the branch network was always always under review and many customers were now using electronic banking.
The computer failure affected the entire Royal Bank of Scotland group, but Ulster Bank took the longest to resolve the issue.
Ten weeks after the initial problem, the bank was still warning some customers that their statements may not be correct.