Aurora borealis visible from Dublin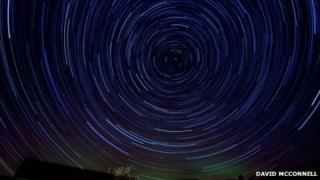 The best views of the aurora borealis - or Northern Lights - are in polar regions but they can also be seen much further south.
In the 1983 film Local Hero, oil boss Felix Happer, played by Burt Lancaster, sent one of his men, Mac, to buy a Scottish village in order to build a refinery, but has a change of heart inspired by the solar light shows.
If recent experience is anything to go by he could have just as easily sent Mac to Ireland.
The aurora has been turning heads along the north coast of the island, but has also been visible to stargazers in the south.
David Moore, from Astronomy Ireland, said that on clear nights the lights had been visible from Cork on the south-east coast.
"The solar activity that causes the lights happens in an 11-year cycle and we are in the last year-and-a-half of that," he said.
"So we are going to see a lot more activity. In terms of Ireland that means more will be visible, but it is the level of cloud cover that can affect what we see."
He added that the last time there had been as much activity over Irish skies was in 2003.
Mr Moore said that while the aurora has a green tinge in photographs, to the human eye it appears as white and in northern latitudes is often referred to as a "false dawn".
He has travelled to Norway to see the lights and says that while they are visible from Ireland, the further north you go the more spectacular they are.
Birr, in County Offally, is nearly 60 miles south of Ireland's geographic centre. It is also where Dave Gradwell has set up an observatory from where he monitors solar activity.
Early on Wednesday he captured images of the aurora and posted them on his blog.
In Kilkeel, County Down, photgrapher David McConnel got more than he bargained for.
He was working on a star trail project which picked up an unexpected tinge.
"I set the camera up in the back yard and told the family no lights tonight," he said.
"I was unable to figure out what the green light was when I was processing the final image 'cows in a field having a party?' but left it petty much as you see it.
"It was only when it came on the news, did I realise what I had photographed, the Northern Lights."
Over the next few days we can expect more views of the lights, with spaceweather.com saying that with another day of geomagnetic storms circling the poles more auroras are expected, some visible as far south as Utah in the United States of America.
So then what can we expect over the next few days? Cloudy on Wednesday evening will mean little chance of a sighting but there are clearer evenings on Thursday and Friday.
In the words of Felix Happer: "Keep watching the sky, MacIntyre."