Corporation tax: Ed Balls says Labour open-minded on powers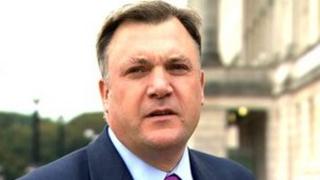 Shadow Chancellor Ed Balls has said he has an open mind about whether Stormont should be given the power to reduce the local rate of corporation tax.
The last Labour government rejected the proposal after a critical report by ex-Treasury official Sir David Varney.
After meeting executive ministers at Stormont, Mr Balls accused the coalition government at Westminster of doing nothing for Northern Ireland.
He said the NI economy was "in real trouble" and needed immediate help.
"What I'm hearing from leaders here is that they want action, they want help now," he said.
"The corporation tax cut is one option, the Treasury's been talking about that, but that's been going on for years.
"They need action now and I'm saying there's other things they could be doing right now.
"What you can't do, which is what George Osborne and David Cameron are doing, is sitting on their hands doing nothing."
He said he had an open mind about devolving the powers on corporation tax and it was up to the executive to decide "whether the bill is worth paying".
The main rate of corporation tax in the UK is 24% while corporation tax in the Irish Republic is 12.5%.
Business leaders and politicians have argued that this puts Northern Ireland at a disadvantage.
Last week Labour leader Ed Miliband appeared to rule out the party taking a more active role in local politics, when he said it was hard to be an honest broker and compete for votes.
Mr Balls, who was accompanying Labour's Northern Ireland spokesman Vernon Coaker on his visit to Stormont, said the party was still considering the matter through an internal process.
However, Mr Balls pointed out that the party has no tradition of candidates standing in Northern Ireland and said things had not worked out very well for David Cameron when he had interfered in local party politics.