Millie Martin's mother 'angry and distraught'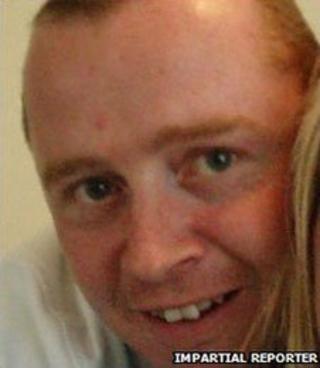 The mother and grandmother of toddler Millie Martin blamed themselves for not linking her injuries to child abuse, Dungannon Crown Court has heard.
Barry McCarney denies murdering and sexually assaulting the Fermanagh child. Her mother, Rachael Martin, denies allowing her death in 2009.
A hospital social worker gave evidence on Wednesday.
Pamela Campbell said Rachael Martin and the child's grandmother, Margaret Graham, had been distraught.
She was with them in the intensive care unit while tests were carried out to see if the 15-month-old toddler from Enniskillen was still alive.
The toddler died on 11 December 2009, a day after she had been admitted to hospital in Enniskillen with serious injuries.
Ms Campbell said: "It seemed as the day wore on the penny seemed to be dropping. They were both looking back over the past few weeks and became very angry.
"Granny in particular was blaming herself, asking why hadn't they noticed things."
She said they were swearing about Mr McCarney, calling him names.
'Millie winced'
Ms Campbell said both women were extremely distressed that someone could have harmed Millie.
She said Mrs Graham had recalled lifting Millie and the child had winced and said "sore, sore, sore".
Ms Martin said she had also noticed that her daughter was in pain.
When the social worker was asked by Ms Martin's barrister John McCrudden QC if she thought they had linked this to child abuse she said: "They seemed to be blaming themselves for not having done so."
Ms Martin said that when Millie had a large bump on her forehead, Mr McCarney had told her she must have hit it on the side of her cot.
Ms Campbell said the child's mother and grandmother had wondered what Mr McCarney must have done to keep Millie quiet.
The social worker said Ms Martin and Mrs Graham had wondered if it would have made a difference if they had not accepted things that Mr McCarney had said.
'Puffy eyes'
Later, Tony McHugh, Mr McCarney's former boss, said that on the day Millie was rushed to hospital, he had turned up for work as normal on the site of the new Erne Hospital, and that "he seemed fine".
However, later Mr McCarney said he was ill and pointed to an area where he had been sick, telling his boss to go and check it out if he did not believe him.
Mr McHugh said when he and another worker did look around they found nothing but "lumps of muck".
The court also heard evidence from a friend of Margaret Graham who called for her on the day Millie died so the pair of them could go shopping.
Josephine McCaffrey said when she arrived at Mrs Graham's home, Ms Martin was in the house with Millie.
"As soon as I saw her I knew she wasn't well... she was in bad form... and her eyes looked puffy looking and her right eye was kinda closed .. not fully closed, closed halfway," said Ms McCaffrey.
Asked by Mr McCarney's defence QC Elis McDermott what was it about the child's eyes that concerned her, Ms McCaffrey said she had never seen a child's eyes like that before.
The trial continues.