New teaching jobs being created by NI Executive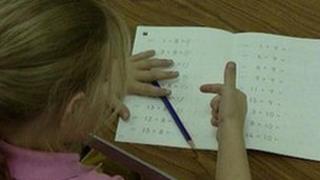 Plans to provide employment for newly qualified teachers in Northern Ireland have been unveiled.
A scheme will aim to link graduate teachers with jobs at both primary and secondary school level.
A total of six "signature" projects worth £26m were announced by the NI executive, which it says will create more than 300 jobs.
The Ulster Teachers' Union said it was a "welcome initiative" that would help to raise standards.
A scheme to create health intervention posts was also announced.
More than 230 graduate teachers and health workers will be engaged over the next two years.
The scheme will provide two-year contracts for 150 recently graduated teachers, who have been unable to find permanent work in English and Maths at secondary level.
Another 80 jobs will be available for recent graduate teachers at primary level. There will be a particular focus on helping children struggling with basic numeracy and literacy.
First Minister Peter Robinson said: "I am pleased to announce this £26m additional investment for six significant programmes.
"Without even the most basic educational qualifications many of our young people find it a struggle to get a job and create a better life.
Experience
"The additional support being provided for literacy and numeracy will tackle this problem head-on and help our young people obtain the qualifications to find work.
"It will also provide 230 young unemployed teachers with an opportunity to get teaching experience while contributing to raising educational achievement."
Deputy First Minister Martin McGuinness said: "Today's announcement is about working together in new ways across departments and in partnership with the community, businesses and wider society.
"The aim is to make a tangible difference, particularly for our children and young people, over the next two years.
"It underscores the importance that the entire executive places on addressing the needs of all of our citizens - in particular those suffering disadvantage and those who have been left on the margins of society."
Avril Hall Callaghan, from the Ulster Teachers' Union, welcomed the jobs boost, saying: "We're just delighted that there can be a scheme that will give employment to young teachers because at present we have an aging teaching workforce.
"Only 12% of teachers in schools at the moment are under the age of 30 and yet we have something like 4,000 young teachers who have qualified in recent years with no jobs."
She said the idea of the scheme was to "free up" places for young teachers by allowing people who are older to exit the teaching profession.
Ms Hall Callaghan said the scheme was about "raising standards, reinvigorating the workforce and targeting areas of social disadvantage".
Another initiative announced is a scheme involving health intervention staff working in deprived areas with around 1,200 families who need help across Northern Ireland.
It could provide employment for up to an additional 50 health workers.
Funding has also been made available to set up 20 new children's "nurture units" in addition to the seven already being rolled out across all areas.
Nurture units offer support, help and guidance to targeted pupils within the school environment.