NI Assembly backs Welfare Reform Bill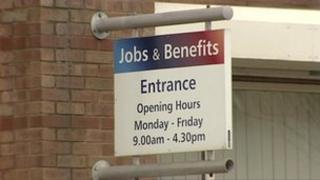 Northern Ireland Assembly members have voted in favour of the biggest shake-up of social security benefits for decades.
The Stormont Assembly debated the Welfare Reform Bill until late on Tuesday.
The motion was passed by 60 votes to 42.
The changes will impact on thousands in NI and affect disability living allowance, housing benefit and employment support.
A Sinn Fein amendment to postpone the bill failed. The proposed measures will now go before a Stormont committee for more detailed consideration.
The new legislation has already been passed in England and Wales.
The Westminster government has said the overhaul will streamline payments and stop fraud.
Under the changes six benefits, including housing benefit, would be brought together in a single, monthly Universal Credit payment.
The bill would also replace Disability Living Allowance (DLA) with a personal independence payment.
It would mean claimants being independently assessed every three years, instead of assessing themselves, as happens at the moment.
Sinn Fein wanted to have the bill deferred to allow more negotiation with the government in Westminster, but other parties, including the DUP, said it should go through or Northern Ireland risked losing millions of pounds in Treasury funding.
The SDLP called for the bill to be delayed for 30 days in order to hold a special committee to consider the equality implications of the measure under Section 75 of the 1998 Northern Ireland Act.
The party's leader Alasdair McDonnell said that if their proposal was not accepted, they were prepared to table a petition of concern, which would subject the welfare reforms to a cross-community veto.
Sinn Fein has claimed the changes amount to Tory cuts. However, the Stormont Executive has decided to press on with the legislation rather than break with the UK-wide benefits system.
Social Development Minister Nelson McCausland is due to meet Welfare Reform Minister Lord Freud next week and negotiations are taking place about Northern Ireland's specific needs.