Northern Ireland green energy licences granted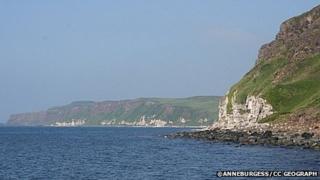 Licences have been granted for three renewable energy projects off the coast of Northern Ireland.
The Crown Estate has signed deals with First Flight Wind Ltd, Tidal Ventures and DP Marine Energy Ltd of Ireland, and DEME, of Belgium.
The deals will see the creation of a 600MW wind farm off Ardglass, County Down, and two 100MW tidal turbines off Fair Head and Torr Head, County Antrim.
Work on the projects is expected to start from 2016.
Energy Minister Arlene Foster said the agreement was a major milestone.
"The development of offshore renewables is an excellent opportunity for Northern Ireland in so many ways," she said.
She highlighted "energy security and diversity; climate change mitigation; a contribution to the Executive's 2020 targets and the business supply chain opportunities for local companies over the next few years as these projects come on stream".
The next stage will involve the successful developers meeting local stakeholders and undertaking environmental assessments of their projects to secure marine licences and electricity consents before a full lease is granted.
Offshore wind is seen as crucial for Northern Ireland to reach its ambitious targets for renewable energy.
The Northern Ireland Executive requires 40% of electricity to come from renewable sources by 2020. This offshore wind project could be capable of meeting up to a fifth of Northern Ireland's 2020 electricity requirements.
The director of First Flight Wind, Michael Harper, said there would be development opportunities for other companies in the project's construction.
"We recognise that the development of an offshore wind farm off the County Down coast will generate local interest and debate," he said.
"We are looking forward to meeting and consulting with local communities so that we can identify issues of concern, explore solutions and design a project that will be a positive asset to the local community and to Northern Ireland."