Northern Ireland digital switchover now under way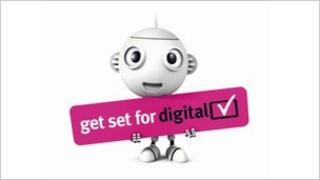 The switch from analogue to digital television is under way in Northern Ireland.
Analogue BBC Two was permanently switched off in the early hours of Wednesday 10 October.
Freeview digital channels, including BBC Two, are available for the first time to thousands of viewers served by local relay transmitters.
The full switchover happens on 24 October.
On that date the remaining analogue channels will be switched off permanently.
The remaining digital channels will become available in all areas.
Northern Ireland transmitters are switching in two stages to give people the chance to check their equipment.
If you have a Freeview, BT Vision or Top Up TV service, you will need to re-tune your digital TV or box at each switchover stage.
Switchover roadshows and advice points will be located across Northern Ireland on 10 and 11 October and 24 and 25 October.
If you have Sky TV, Virgin Media, freesat or Freesat from Sky on all your TV sets, then you do not have to do anything.
If you have not converted and still have analogue TV, you will lose BBC Two at stage one and all of your remaining channels at stage two.
Russell Keene from Digital Switchover UK said: "If you don't retune you'll find a lot of your channels missing. All your BBC channels are missing. Retuning will bring those channells back.
"That's what we are there to give help with. You can give us a call, our advice line is ready. We open from six in the morning until ten at night."
The switchover is happening so that Freeview services can be extended to people who cannot currently get them, including those who receive their signal from a relay transmitter.
It also allows new services, such as High Definition (HD) channels, to become more widely available.
Analogue television across the UK will switch off on 24 October. Northern Ireland is the last part of the UK to make the switch.
Further information can be obtained from the Digital UK website