Boris Johnson praises bus firm Wrightbus in speech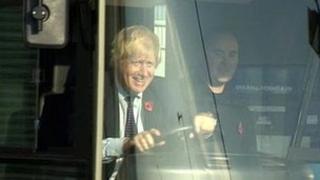 London Mayor Boris Johnson has used his speech at the Conservative Party conference to praise the work of Ballymena coach builders Wrightbus.
He said he had just ordered 608 buses - which he described as "scarlet beasts" - from the company, saying it was the biggest order in its history.
He described the double-decker as the "cleanest and greenest bus in Europe".
Mr Johnson said the order was an example of "driving British jobs and growth".
Mr Johnson received rapturous applause from Tory activists in Birmingham.
During his speech he said Britain had a "chronic tendency to underestimate what we can do".
The London games, he added, showed "we are a can-do country, a creative, confident can-do country".