Q&A: Universal Credit and the benefits overhaul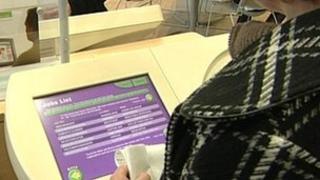 The Northern Ireland Assembly is debating the Welfare Reform Bill which is set to mark the biggest overhaul of the benefits system since the 1940s.
It will bring in a single, Universal Credit to replace six income-related, work-based benefits and has already been passed for England and Wales.
What are the reasons given for the changes and what does it mean for the people of Northern Ireland?
What is the idea behind this?
The coalition government says that millions of people in the UK have become trapped on benefits.
At present, in nearly 1.1 million workless households, a person will currently lose more than 70% of their earnings if they move into work of 10 hours a week, the government says.
It wants to see a system where people are always better off in work than they would be on benefits.
What is the issue with the system at present?
Perhaps the biggest issue is how complicated it has become. There are more than 50 different benefits and other payments that people can claim.
Such complexity causes confusion, according to the government. In 2009, 2.3 million contacts to the Department for Work and Pensions were driven by people contacting the wrong agency and 1.4 million by people contacting the wrong office, it said.
It estimates that £5.2bn a year is wrongly paid out as a result of fraud and error.
What is the Universal Credit?
This is where a total of six benefits will merge into one single payment.
For instance, if you get Jobseeker's allowance and housing benefit they will be paid as one single payment.
The idea is to get rid of the benefits trap. That's what happens when people on benefits get a job and then end up worse off because of the amount of benefits they were on. Under Universal Credit that won't happen, the government says.
Benefits will be gradually phased out as income increases. The government also says it will lift 10,000 children in Northern Ireland out of poverty. Tax credits will also come under Universal Credit.
What will happen to housing?
In Northern Ireland 9,000 people are likely to be affected by the cuts to housing benefit.
When it comes to social housing, people will no longer be able to live in houses with more bedrooms than they need. For example, if a single person is living in a two-bedroom flat, they will no longer receive the same amount of housing benefit. So to stay in the same property they would have to make up the shortfall in rent from their benefits.
This has a particular impact in Northern Ireland because of our housing stock. Researchers at Magee in Londonderry have said we simply do not have enough one-bedroomed properties in Northern Ireland to offer alternative accommodation for those affected by this reform.
There is the further problem of demographics. There may be enough one-bedroomed houses in a Protestant area but not in a Catholic area - or vice versa. That could create problems for people being forced to move home.
What will happen to the Disability Allowance?
This will change to the Personal Independence Payment (PIP) for people of working age but DLA will be retained for children and pensioners.
That will mean all 118,000 working-age people currently on DLA in Northern Ireland will be reassessed and receive PIP instead. At the minute DLA is largely self-assessed - claimants do need medical references and evidence, but the form itself is filled in by the claimant.
In future every person will undergo an independent assessment of their medical condition - and the decision will then dictate which rate of payment they receive.
There are currently 12 different rates of DLA. In future that will be cut to eight rates.
The rates have not yet been made public so at this stage it's not possible to say if people will be better or worse off. But officials have conceded that there will be some winners, some losers and some who will not receive the benefit in the future at all.
There will be an appeals process and claimants unhappy with their reassessment will be able to have the decision reviewed, as is the case at the moment.
What are the pitfalls?
Critics are worried about the pressure reassessment will place on people with disabilities.
Mental Health charities are particularly concerned that those with mental health problems may lose out and they have called for extra training for those carrying out the assessments.
They say Northern Ireland has special circumstances because of the legacy of the Troubles and those should be recognised.
The Department of Social Development says this has been raised with Westminster and the mental health issue will be taken into consideration.
What are the increased sanctions?
There will be stricter rules for people losing their benefits if they refuse a job, under the plans. A sliding scale of sanctions will see benefits withdrawn for three years if three jobs are refused in three years.
This will generally see those who refuse work on one occasion in 12 months having their benefits taken away for three months. If they refuse a second job within the next 12 months, benefits will be taken away for six months. If they refuse a third job in the next 12 months, their benefits will be taken away for three years.
Instead of some disabilities leading to a guaranteed DLA entitlement, PIP claimants will have to go through regular assessments on how their condition affects them.
The government has also confirmed plans to implement a £50 immediate fine for "errors that could have reasonably been prevented" on benefit claims.
It also wants to impose tougher penalties for more serious benefit fraud.
Does Northern Ireland have to adopt the reform?
Minister for Social Development Nelson McCausland, of the DUP, says that we must.
He says that Northern Ireland cannot go it alone on benefits and that any delay will hurt the most vulnerable.
Mr McCausland said that if NI did not adopt the reforms it would have to develop its own IT system for paying benefits. He compared this to developing a Northern Ireland space program: theoretically possible but with prohibitive practical problems.
Sinn Fein wants to have the bill deferred to allow more time for negotiation with the coalition government to extract more concessions.
Mr McCausland is to meet Welfare Reform Minister Lord Freud for more negotiations about Northern Ireland's specific needs.