David Bowie examined in Limerick university conference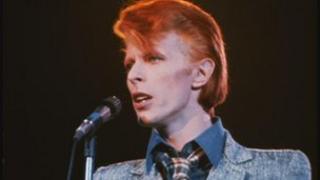 The cultural impact of British singer David Bowie is to be examined at an academic conference in the Republic of Ireland later this month.
Organisers at the University of Limerick believe that "Strange Fascination? A Symposium on David Bowie" is the first event of its kind.
It marks the 40th anniversary of the popular Bowie song, Changes.
The song, originally from the album Hunky Dory, was released as a single in January 1972.
"Bowie is a truly iconic figure," said co-organiser Dr Eoin Devereux.
"His ability to reinvent himself, his capacity to capture the zeitgeist of the age in terms of mankind's alienation and his versatility as a singer, performer, artist and actor are just a few of the many reasons Bowie will be examined at our event."
The three-day symposium, which will begin on 26 October, will feature a panel discussion on Bowie's long and varied career, along with his contribution to pop culture.
"Our event has attracted interest from all over the world and has already had almost 8,000 likes on David Bowie's official Facebook page, where it has been featured," said Dr Devereux.
"The three days will feature papers from Bowie experts from as far afield as New Zealand, Australia and the United States."
The University of Limerick has previously held similar academic conferences on the cultural influences of Morrissey and Harry Potter.
Separately, an exhibition charting the career of David Bowie will open at the Victoria & Albert Museum in London in March.
It has been given unprecedented access to the David Bowie archive to curate what will be his first international retrospective.
The "David Bowie Is" exhibition will feature handwritten lyrics, original costumes and set designs alongside the 65-year-old star's own instruments.
The exhibition will explore Bowie as a musical innovator and cultural icon.