Streamvale Open Farm gives home to piglet 'Babe'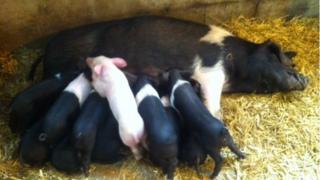 A piglet that was found wandering the streets of Belfast has been given a new home, a new family and a new name.
The two-week old animal has been taken in by staff at an open farm in Dundonald, on the city's outskirts.
The new arrival was taken to Streamvale Open Farm by two men who said they had picked the pig up after seeing it alone on a road in north Belfast.
"Well, he has to be Babe, doesn't he? He's a wee, pink pig," farm owner Judith Morrow said of the pig's name.
The men who took the pig there said they had tried to take it to Belfast Zoo, but said zoo staff had directed them to Streamvale Open Farm.
Adoption plan
Mrs Morrow said the men had explained that her farm had been suggested as a more appropriate place to care for such an animal.
She described how they promptly left the male piglet in her adult daughter's arms and drove off.
"It doesn't look like a pet. It's a commercial piglet. It's been well looked after, it's been fed," she said.
Mrs Morrow added: "I have no idea how it got into north Belfast or how it got away from its mother."
She told BBC Radio Ulster on Monday how the farm had made attempts to have Babe adopted by a sow which recently gave birth to a litter of piglets which are also about two weeks old.
However, things did not go quite to plan at first.
"Unfortunately our babies didn't really want a step-brother and they were a bit severe on him but the mummy pig is coming round to him now," she said.
"They were fierce to him. He just didn't look like them - they're all black, he's all pink - he didn't smell like them and they just didn't want him in with them at all.
Break-in
"We're watching him closely and we're not letting any bullying get too far. It's like all young beasts - there's a bit of a pecking order that has to be organised before they settle down," Mrs Morrow added.
The farm owner said they were keeping a bottle of pig milk "standing by" in case Babe's new siblings refused to let him suckle the sow.
"We can look after him, but he really would be best back to his mummy and somebody somewhere must be missing a piglet."
A few hours after the broadcast on Monday evening, a pig farmer and his son arrived at Streamvale to see Babe.
They told farm staff that they believed there had been an overnight break-in at their commercial pig business in Monkstown on the outskirts of north Belfast.
However, Mrs Morrow said that having seen the piglet in his new surroundings, gradually being accepted by his new step-family, the man and his son had decided Babe would be better off staying at Streamvale.