Residential homes face cut from 56 to 28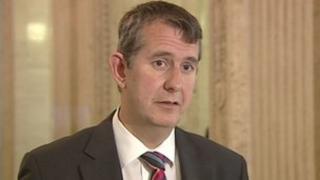 The number of residential homes across NI could be halved as part of major changes to the health service.
Currently, there are 56 homes owned by the health service but the proposal is to cut that figure to 28.
It would mean more than 800 places lost over a five-year period. The move has been criticised by some MLAs as a step closer to privatising care.
The details were included in a statement by Health Minister Edwin Poots to the Stormont Assembly.
Mr Poots addressed MLAs on the next stage of how he intends to transform the delivery of health and social care services.
The purpose of Tuesday's statement was to put the proposals to consultation.
Mr Poots said they presented a "vision of a new model of care".
He said the proposals were "focused on ensuring that more services are provided in the community, closer to people's homes where possible.
"It is about prevention, earlier interventions, promoting health and well-being and having more personalised care that is planned and delivered around the needs of the individual and tailored as far as possible to suit them."
He said the proposed changes were "not about cost-cutting but were about improving service delivery and making better use of resources".
The minister said he expected the anticipated small reduction in staff numbers could be managed "without the need for compulsory redundancies".
Included in the health minister's statement were proposed changes to how the service will cater for those with mental health problems.
Under the Bamford Review, the priority remains to promote independent living with a number of units on acute hospital sites instead.
While each health trust's plan may differ slightly, the main issues are the same.
These include how to provide for a growing and ageing population; tackling diverse health inequalities hampered by obesity and alcohol-related problems; an increasing prevalence in long-term conditions, such as cancer, and an increasing reliance on hospital beds.
Future planning
But just how much priority each trust gives to an issue, such as services for asthma sufferers or even breast-feeding support, is determined by so-called population plans.
These figures spell out what services are required now and also highlight which services will be required in the future.
For example, the number of older people in Northern Ireland is expected to increase by 18% by 2022.
The over-65 age group will require specific services.
As 2,667 people are currently registered with dementia in Belfast alone, the city's health trust is aware it will have to increase service provision for that generation in the next 10 years.
Through its population plan, the Southern Trust is aware it has the highest rate of births and therefore will need suitable maternity services to support this trend.
The number of accident and emergency departments remains controversial.
With a benchmark of one acute hospital for every 250,000 to 350,000 people, some of the health trusts may find it difficult to justify having two. This particularly applies to the Northern Trust, currently based at the Causeway Hospital in Coleraine and the Antrim Area Hospital.
Community care
The minister's statement was based on the Transforming Your Care document published in December 2011, which sets out the plan for how health service provision is likely to be developed.
The time frame for change to unfold is between three to five years.
The overarching theme remains for care to be transferred away from hospital and into the community instead.
In principle, that means patients should be able to access services closer to home or in the community "hub", which will be their local health centre.
Integrated primary and community teams will be established to monitor and manage the health of their local populations.
According to the Transforming Your Care document that means a "core team will comprise of community nurses, occupational therapists, social workers and GPs with a specialist interest, supporting a cluster of GP practices and working closely with community pharmacists.
"The core teams will be based in a well-being and treatment hub and local health and community facilities, which will also provide bases for a range of assessment and treatment clinics and support and advice services provided by community and voluntary organisations. Some services currently provided in hospital will transfer to the hubs."
In order to deliver this plan, it is thought that about 5% of the hospital budget will be transferred to the community budget instead.
The British Medical Association (BMA) said that while it welcomed the idea of change, it was concerned about whether enough resources would be pumped into supporting the new system.
The document will be put out to consultation for 12 weeks.