Monkstown bus robberies: Boys 'used meat cleaver, hammer and knife'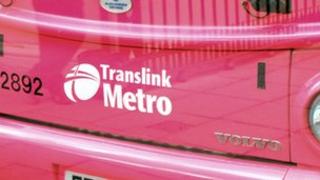 Four teenagers used a meat cleaver, a hammer and a knife to rob two Translink bus drivers in the summer, Belfast High Court has heard.
The drivers were threatened into handing over cash after stopping to let one of the suspects on to buses in Newtownabbey, prosecutors said.
Bus services were withdrawn in the Monkstown estate for a short time after the robberies on 15 July and 28 August.
The details emerged during a bail application by a 14-year-old suspect.
The teenager was denied a variation in his bail terms.
The schoolboy, who cannot be identified because of his age, faces two charges of robbing Translink of £55 and £20 on the dates in question.
Three other older boys allegedly used weapons in the hold-ups in Monkstown.
Nicola Auret, prosecuting, said: "As I understand it, on one occasion a meat cleaver was wielded, (and) a hammer.
'Stooge'
"In the second robbery, this applicant's older brother was carrying a four-inch kitchen knife and the two others were carrying a brick each."
A judge was told the 14-year-old has admitted his involvement, but has claimed his brother pressured him into taking part.
"This applicant's role in it was that he would be the person waiting to get on the bus and when the bus stopped to let him on, the other persons came in behind with the weapons and robbed the bus," Ms Auret added.
The schoolboy was granted bail last month, but his lawyers returned to court in a bid to change the location where he can reside.
Defence barrister John O'Connor said: "The police accept he was without a mask, he was first on the bus, wasn't armed and was effectively used as a bit of a stooge by his older brother and two other boys."
'Threat'
The court heard the accused has been assessed as being potentially at risk due to his alleged offending.
Mr O'Connor stressed there was no suggestion of a threat from paramilitaries.
He argued: "Obviously members of the community are saying 'We are angry that our buses were held up'.
"But to say there is somebody physically ready to attack him is a world away."
However, Mr Justice Deeny refused to grant the variation.
The boy, who attended court for the hearing, was reminded that he is under curfew and must not contact any witnesses or co-accused.
The judge suggested that conditions may have changed by the time the case is dealt with, adding: "Hopefully any irritation on the neighbourhood will have waned."