Millie Martin trial: Mother and partner in tears at evidence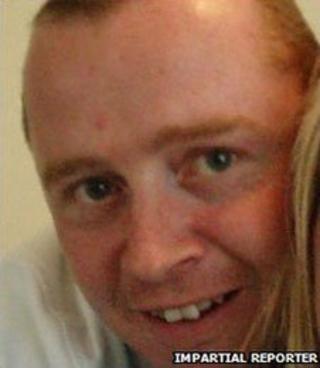 The mother of Millie Martin and her former partner both became visibly upset as they listened to evidence at the trial into the girl's death.
The court was shown CCTV footage from the night the 15-month-old, from Enniskillen in County Fermanagh, died.
Her mother sobbed as a doctor described the family's reaction to concerns that the child had been sexually abused.
Barry McCarney denies murder and sexual assault. Rachael Martin denies allowing her child's death in 2009.
The trial at Dungannon Crown Court also heard evidence from a pathologist about fractures to the toddler's ribs. Millie was killed in December 2009.
Court silence
There was silence inside court as the CCTV images were played.
A few minutes after Ms Martin, from Kesh, was seen inside a shop at Chanterhill, the pictures showed Mr McCarney, from Trillick, arriving at Erne Hospital carrying Millie in his arms.
The jury watched doctors and nurses rushing to the room where they attempted to resuscitate Millie.
Mr McCarney stared at the ground, then looked up, wiping away tears as he sat in the dock, while a few feet away Ms Martin sat looking at the screen in silence.
Earlier, Mr McCarney's barrister said she accepted that Millie's injuries had been deliberately inflicted.
The trial began its second week with evidence from consultant pathologist Professor Archibald Malcolm.
'Old fractures'
He carried out a post-mortem examination of seven of Millie's ribs which he said showed no evidence of disease, adding that fractures to them were about four weeks old.
He said it was difficult to cause rib fractures to a 15-month-old child and that he believed the injuries had not been accidental.
He said considerable force would have to have been used by gripping or squeezing the rib cage such as if the child was in a high-speed road accident.
In the afternoon, the trial heard from Mairead McGinn, a consultant paediatrician at the Belfast Trust, who said Millie had been essentially brain dead when she was taken to the Royal Belfast Hospital for Sick Children.
When the doctor had asked why she was being transferred, she had been told there were concerns about possible physical and sexual abuse, the court heard.
'Very upset'
She said she had asked Millie's mother when the toddler had last been well.
Ms Martin told her that her daughter had been in good form the day before.
"She was dancing," she had told the doctor.
Listening in the dock, Ms Martin began to sob.
The doctor also said that Ms Martin's mother Margaret Graham had said she had noticed something when changing Millie's nappy.
At this point Dr McGinn said Ms Martin had become very upset and said she did not want to hear, which the doctor said she had taken to mean about concerns in the nappy region.
The trial continues.