Mortar bomb in Ardoyne, Belfast: Brendan Campbell in court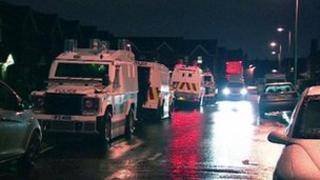 A Belfast man has appeared in court charged over the discovery of a mortar bomb in the Ardoyne area last Thursday.
Brendan Joseph Campbell, 21, from Flax Street, is accused of preparing terrorist acts and having explosives with intent to endanger life.
The bomb was found in his grandmother's shed, Belfast Magistrates' Court heard.
A detective said the accused's fingerprints were found on two bin-bags which contained the device, a battery pack and 20 metres of command wire.
Mr Campbell was remanded in custody.
More than 30 homes were evacuated following the discovery of the missile in Jamaica Street, Ardoyne, last Thursday night.
The PSNI said the horizontal-type mortar device was "substantial" and "viable".
Residents were allowed to return to their homes after several hours.