Stephen Carroll killer Brendan McConville cleared over explosives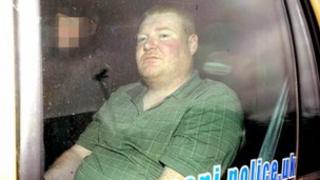 One of the two men convicted of murdering Constable Stephen Carroll has been cleared of explosives charges.
Brendan McConville, 41, was due to have gone on trial accused of having explosives with intent to endanger life and under suspicious circumstances.
However, a prosecuting QC told Belfast Crown Court on Monday no evidence was being offered against him.
Earlier this year McConville was jailed for at least 25 years for Constable Carroll's murder.
The 48-year-old police officer was shot dead in Craigavon in March 2009.
No details to the background of the explosives case were given in court but the indictment alleged that McConville had explosive substances namely firework fuse, filler plugs, firework composition, pieces of shotgun cartridges, plastic conduit assemblies, springs and pegs.
The offences had been alleged to have taken place on dates between 11 October 2006 and 11 October 2007.
Prosecuting QC Terence Mooney told the court that in preparation for the case, on Thursday 4 October the Forensic Science Agency "brought to the attention of the PPS new information which had a bearing on one aspect of the forensic evidence that we intended to present in court".
He told Mr Justice Horner on foot of that new information, he had been asked to look again at the papers and having done so: "I formed the opinion that the test for prosecution was no longer met."
"I'm therefore instructed by the director of the PPS to offer no evidence on this indictment against this accused," the lawyer said.
McConville was taken back into custody to serve the remainder of his sentence for Constable Carroll's murder.