New Lodge, north Belfast, firework victim could lose sight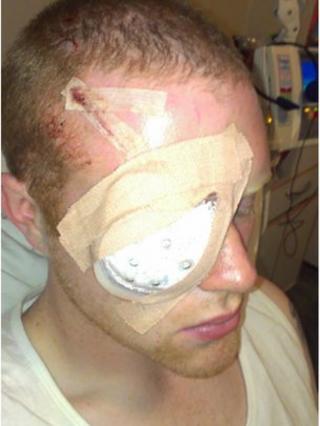 A north Belfast man injured after a firework was thrown at him faces a long recovery and could lose the sight in his eye, his father has said.
Collum Kelly, 23, was at home in Carlisle Parade in New Lodge when he was disturbed by young people who were throwing stones and fireworks outside.
When he opened his window to shout at them, the firework exploded.
He underwent surgery on Sunday and has been told he could lose his sight in his right eye.
"I spoke to the surgeon and he told me the extent of the damage and what they had to actually do to put his eye back together and the rest of his face," his father said.
"It's going to be a long process and there's also the possibility of his losing the sight of the eye.
"So we just have to wait and see and hope to God that he gets better."
Mr Kelly said fireworks were being sold to young children in the area by people whose only concern was to make money.
"It's a problem every year - the sale of illegal fireworks to kids as young as six or seven by unscrupulous vendors who have no thought other than to make money," he said.
"Friends and relatives have been telling me that apparently you can even buy these things 10 for £3, which in this day and age is nothing to a group of kids."
He said what happened to his son could happen to others.
"This could have been anybody, it could have been a child, it could have been a pensioner, it could have been anyone, it could have been some of the children of the ones who are selling these things," he said.
"My son just happened to be in the wrong place at the wrong time."
North Belfast Sinn Fein councillor Conor Maskey said the incident showed why "illegal fireworks need to be taken off the streets."
"Parents need to be extremely vigilant that their children are not handling these fireworks, both for their own safety and the safety of others," he added.
"The community should send a clear signal to those that sell illegal fireworks that it is not acceptable and information on people selling them should be brought to the PSNI. My thoughts are with the family of the young man injured and hopefully he will make a full recovery."
It is a legal requirement to have a licence to buy, sell or use fireworks in Northern Ireland.
Licences for a garden fireworks display cost a minimum of £30.