Tory conference: 'Spirts high' in NI delegation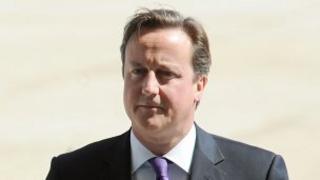 Political pundits often suggest that without the support of "middle England" a political party has no chance of taking the keys to Downing Street.
It is a term used to define the typical voter.
Prime Minister David Cameron has therefore come to an appropriate place as he tries to restore the Conservative Party's fortunes.
England's second city - Birmingham - in the heart of the Midlands, is about 120 miles from London and is playing host to thousands of Conservative Party activists from across the UK.
Around 25 Tory Party members have travelled from Northern Ireland and their number includes Irwin Armstrong who is chairman of the Northern Ireland Conservatives.
Despite the fact that his party is trailing nationally in the polls, he says among activists the "spirit is amazingly high".
The Conservative gathering in Birmingham follows Labour's annual conference in Manchester where Ed Miliband's speech took many observers by surprise.
To some political commentators, the Labour leader's 65-minute speech without notes was a "tour de force" and he even drew praise from Conservative supporting newspapers.
However, the vice-chairman of the Northern Ireland Tories, Paul Megarity, thought there was "nothing new from Labour".
He also criticised the Labour leader for saying he was "wary" about fielding Labour candidates in elections in Northern Ireland.
Mr Megarity claimed that by refusing to stand candidates Ed Miliband "blows his one nation credentials out of the water".
It is understood that Labour has not made a final decision on whether it will enter the electoral world of Northern Ireland.
Taking on the more established political parties is fraught with difficulty as the Northern Ireland Conservatives can testify.
Their ill fated alliance with the Ulster Unionists at the 2010 General Election failed to produce a single MP.
However, the NI Tories said they would fight the European Elections in 2014 and assembly and council elections.
The Northern Ireland Conservatives, who number about 450, relaunched earlier this year and are now integrated into the national party.
The relaunch has disappointed one prominent Northern Ireland Tory who is in Birmingham for the party conference.
Felicity Huston told the BBC: "I don't think the relaunch has made the impact that was hoped for".
However, Mr Megarity said the relaunch had worked and claimed party membership had gone up by 25% in recent months.
Local Conservatives know their political fate rests with persuading voters in Northern Ireland to cast off their traditional habits and to encourage non-voters to get involved.
The state of the economy will be key and the NI Tories still insist that lower Corporation Tax rates are a game changer.
The debate over giving the Stormont Executive the power to vary Corporation Tax has now being going on for more than two years and some people are getting frustrated by the delay.
The Shadow Secretary of State, Vernon Coaker, has accused the government of "dithering".
However, in a BBC Northern Ireland interview, on the eve of the conference, the prime minister denied that the lack of a decision on corporation tax was harming the Northern Ireland economy.
He said: "Look that decision has to be taken but I am not waiting for that decision to do things to help investment into Northern Ireland.
"We are taking a series of steps, cutting corporation tax, investing in apprenticeships, making it easier to start a business, making it easier to take people on, making sure the Northern Ireland Executive is a business friendly executive".
Mr Megarity says he thinks it will be the New Year before a final decision is taken about corporation tax.
His colleague, Irwin Armstrong, insists that lower rates would make an immediate impact.
He says if it does not happen more people could find themselves without work in Northern Ireland.
"If people don't do something, 100,000 unemployed is a real possibility," he said.
The debate in Birmingham will focus on many key issues, the economy, health,reform to the welfare system and that favourite Tory topic Europe.
It is an opportunity for the Conservatives to redefine themselves. Much rests on Mr Cameron's address on Wednesday, the final speech of conference.
Afterwards he will return south.
His trick is to leave the middle of England - hoping 'Middle England' still believes in him.