Stormont to debate Sinn Fein anti-austerity motion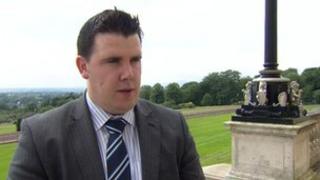 Stormont is to debate a Sinn Fein motion calling on the British and Irish governments to "turn away from the failed policies of austerity".
The party said it is calling on both governments to acknowledge "we cannot cut our way out of this recession".
Sinn Fein's Phil Flanagan claimed a change of direction is needed.
He said Stormont's ability to achieve economic growth was "seriously hampered by the decisions of governments around us and our lack of fiscal powers".
'Most vulnerable'
The Fermanagh and South Tyrone MLA proposed the debate along with his party colleague, Daithí McKay.
Mr Flanagan said: "Across Europe, there is a growing acceptance that the policies of austerity have failed; they have not led to any form of economic growth and have merely compounded the problems caused by the financial crisis, with levels of unemployment soaring and the return of emigration to Ireland once again."
Sinn Fein has argued that efforts to grow the local economy must be based on job creation, tax changes, "first class front-line public services" and "the protection of the most vulnerable".
Last week, a row broke out in the Stormont executive over Sinn Fein's call for a deferral of the Welfare Reform Bill.
'Sham fight'
The bill, which represents the biggest shake-up in UK welfare for decades, includes cuts to some benefit payments and more rigourous tests for people claiming Disability Living Allowance (DLA).
At the time, the DUP's Sammy Wilson said he was "totally surprised by this Sinn Fein welfare reform bombshell".
However the finance minister dismissed the move as a "sham fight".
"Sinn Fein is presenting this sudden breast-beating as a demonstration of their care for the vulnerable but in reality it is a costly piece of political posturing," Mr Wilson added.