Work to begin at Arvalee Special School in Omagh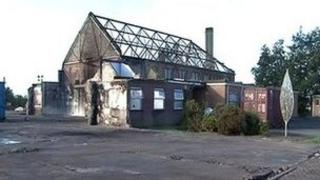 Work to repair a County Tyrone school which was partially destroyed in a major fire last month will enter a new phase on Monday.
Arvalee Special School in Omagh was extensively damaged on 1 September.
It was unable to open for the new term and for the past four weeks its pupils have been travelling to other schools in Castlederg and Strabane.
Arvalee's site on Deverney Road has now been cleared and temporary classrooms are due to be put in place later.
The school caters for more than 100 pupils with moderate and severe learning difficulties, ranging in age from three to 19.
Some parents have expressed concern that their children would be adversely affected by the move to unfamiliar schools, which for some meant longer journeys and disruption to their usual routine.
In the aftermath of the fire, a fundraising committee was set up to help raise money to support the rebuilding project.
Arvalee opened in 2004, and before the fire broke out, plans were in place to build a replacement school at Lisanelly educational campus site.
School principal Jonathan Gray said: "It has been difficult for the children and it's still difficult for the children.
"The extra transport that's had to be laid on, the additional miles, the time, so we'll be glad to get back on site."
"I think everybody will breath a sigh of relief when we get back to Omagh, back to Arvalee."