Banbridge crash: Woman, 22, dies and four others injured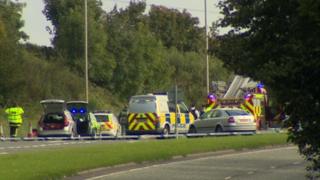 A 22-year-old woman has died and four people have been injured in a two-car crash on the main A1 Belfast to Dublin road.
It happened just before 10:50 BST at the Castlewellan Road junction near Banbridge in County Down.
The injured, three men and a woman, were taken to hospital by ambulance, two of them in a critical condition.
One person remains critically ill, two are in a stable condition and a fourth has been discharged from hospital.
The A1 dual carriageway, which was closed to traffic for a number of hours after the collision, has now reopened in both directions.
'Ejected'
John McPoland from the Ambulance Service said: "It would appear that one car went across the central reservation and collided with a car coming in the other direction.
"We had been told, at that stage, that there were possibly three people ejected from the vehicles.
"So we immediately responded with four accident and emergency vehicles, one rapid response paramedic and three ambulance doctors."
The injured are a 22-year-old man, a 49-year-old woman and two men aged 51.
They were taken to three different hospitals in Counties Antrim, Down and Armagh - two in a critical condition and two with non life-threatening injuries.
The most seriously hurt were taken to the Royal Victoria Hospital in Belfast, where one remains critically ill and the other is now stable.
Another was taken to Craigavon Area Hospital were their condition is described as stable.
'Shocked'
A fourth person was treated in Daisy Hill Hospital, Newry, but has since been discharged.
Banbridge Councillor Sheila McQuaid said: "The whole town is shocked by this tragic accident."
The Alliance representative added that she had raised concerns about the junction with the Road Service just last week.
"Sadly, this accident happened before the Road Service were able to upgrade this junction. I hope they will now prioritise this work to improve safety at such a dangerous junction," Ms McQuaid said.
Jo-Anne Dobson, who is an Ulster Unionist MLA for the area, said she sent her "deepest sympathies to the friends and family of the person who lost their life in such tragic circumstances".
She added it was "a stark and chilling reminder of the very real dangers which are always present on our roads" and appealed to witnesses to contact the police.