Joe Brolly donates kidney to St Brigid's GAC coach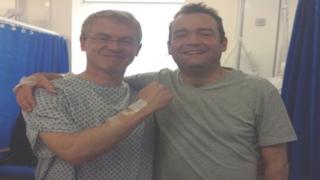 Former Derry GAA player Joe Brolly is recovering in a London hospital after donating a kidney to a fellow coach from St Brigid's GAC in Belfast.
An operation to transfer his kidney to Shane Finnegan, 40, was performed at Guys Hospital in London on Wednesday.
Both men remain under medical supervision.
In a statement on the club's website, Mr Brolly, 42, said he had been "honoured to have been in the position to help Shane".
"He's been waiting for a transplant for over six years and when I heard that the only possibility of one was through a live donor I contacted his medical team," he said.
"And, of course, in my considered opinion it's all going according to plan - and thankfully the doctors concur."
Mr Finnegan, who works for a Belfast public relations firm, said Joe's altruism had been "overwhelming".
"There are no words to thank him or his family for his wonderful gift," he said.
"I know it's early days, but I'm so relieved that it's all going well for both of us so far."
Senior Ulster GAA official and close friend, Ryan Feeney, said they were on the "road to recovery".
"I'm very, very proud of Joe," said Mr Feeney.
"He is truly a great man - this is one of the most selfless and compassionate acts of friendship ever undertaken."
Mr Brolly and Mr Finnegan both coach an under-10 side at the club, where both men's sons play.
Dermot Dowling, the chairman of St Brigid's GAC in Belfast, said he was amazed by the news.
"It's something which is typical of Joe," he said.
"It epitomises what Joe is about. His commitment to this club since he joined has been tremendous. His enthusiasm just passes onto people.
"It epitomises what the whole community aspect of the GAA is about."