NI Water and Belfast City Council row over rat control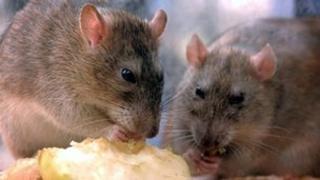 Rats are causing a legal row between Belfast City Council and Northern Ireland Water.
One of the most effective methods of controlling the rat population is to lay rat poison in sewers.
NI Water have funded the council delivery of the 'sewer baiting' service since 2003, but now say they should not be responsible for paying for it.
The council dispute this and are considering issuing legal proceedings against NI Water.
The cost of providing sewer baiting in Belfast is approximately £59,000 per year.
NI Water previously funded Belfast City Council to carry out the work. This enabled the council to employ two staff to put rat poison in 16,000 manholes every year.
The council dealt with 1,910 complaints about rats in 2011, and are concerned that if NI Water stops paying for the service that rat problems in the city will increase.
A spokesperson said: "Phasing out sewer baiting would lead to an increase in the rat population and have a detrimental effect on the quality of life of those living, working and visiting the city."
A female rat can produce eight young every three to four weeks in favourable conditions, and urban sewers are regarded as one of the most popular habitats for rats.
NI Water said that while they are responsible for providing and maintaining sewers they are not responsible for other services like pest control.
As a result, they are phasing out their funding to Belfast City Council to put rat poison in the sewers.
The head of networks sewerage at NI Water, Des Nevin said: "While NI Water is not legally obliged to fund sewer baiting we have agreed to provide limited funding until March 2014 to allow councils to make their own provision."
"NI Water does not fund this service in the majority of council areas across Northern Ireland."