Millie Martin accused Barry McCarney 'changed clothes'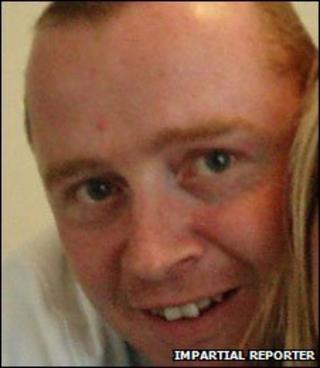 The man accused of murdering toddler Millie Martin changed his clothes while the child was treated in hospital on the night she died, a court has heard.
Millie was brought to the Erne Hospital by Barry McCarney in a lifeless condition on 10 December 2009.
Witnesses said when he first arrived at the A&E he was not wearing any shoes and had on a grey hooded top.
Later when Millie had been taken to the intensive care unit he had changed into white trainers and a woollen jacket.
Staff nurse Sinead Doyle said he took his hooded top off because there was a bloodstain on the arm.
She told Dungannon Crown Court he told her: "I don't want Rachael (Millie's mother) to see that."
At that point, a weeping Martin arrived, and McCarney told Staff Doyle: "That's Rachael".
The staff nurse said she "went straight over to her and said, I have to talk to you, and what happened to the baby".
Martin, she claimed, went across the room and sat down.
"She was crying and sat down and put her head in her hands," said nurse Doyle, who added that despite "repeatedly" asking what happened to the youngster, she "got no response" to her queries.
Mr McCarney, 33, from Trillick denies murdering and sexually assaulting the 15-month-old County Fermanagh child.
Rachael Martin, 27, from Kesh denies allowing her daughter's death.
Nurse Sylvia Love told the court that Mr McCarney told her he had found Millie in her cot and he thought she was not breathing.
Witnesses described him as being anxious and agitated as he paced the corridor while staff attempted to resuscitate Millie.
Hysterical
Under cross-examination, nurse Love agreed that when first interviewed by police she'd made no mention of McCarney saying he found baby Millie "lifeless and there was no response".
She also agreed that Martin, when told of the treatment being given to her daughter, not only became hysterical, she also asked: "What, she's not breathing for herself?".
Sister Betty McCleery said when her mother Rachael Martin arrived at the hospital, they made eye contact and Ms Martin asked her "Will she be all right? Will she be all right?"
When she was told that a tube was helping Millie breathe she became hysterical.
Sister McCleery said there was no physical contact between the couple and their body language suggested they were in disagreement.
When a consultant paediatrician told Millie's family about her rib injuries, she said, her grandmother Margaret Graham, said: "That must have been why she was sore when I was trying to lift her under her arms."
The trial had previously heard that Millie had suffered 11 broken ribs about four weeks before her death.
She had also been sexually assaulted and died as a result of a severe head injury.
The trial continues.