Apple core litter fine angers County Down driver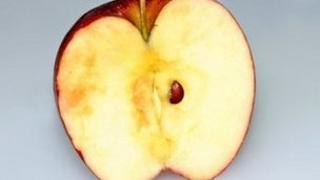 A teacher has said he is angry about being fined £150 for throwing an apple core out of his car into a hedge.
Cyril Falls, 53, who is a teacher at Bangor Academy, County Down, said he thought it was OK to throw the apple core because it is biodegradable.
The incident happened in Saintfield, County Down, earlier this year.
A Down District Council enforcement officer who was in the car behind him as they were stopped at a junction took down his registration number.
Mr Falls was initially given a £50 fine which he said he forgot to pay.
When he got a reminder about it, his solicitor thought they should contest it.
On Monday, a judge upheld the council's case and Mr Falls was fined £150 and made to pay the court's costs.
"I'm angry - I have two children at university who could have benefited more from the £250," Mr Falls said.
"To me an apple is biodegradable. There are insects and various things in the hedgerows that can benefit from it.
"In the countryside, where there are hedges and probably more apples in the hedge than my apple core, I didn't feel that it was anywhere close to litter."
Apology used as evidence
He said when he was first contacted about the incident he apologised to the council.
"I apologised to them thinking that would be the last I would hear about it," he said.
"That was actually used as part of the evidence, the fact that I had apologised, it was part of the evidence that convinced the judge that I was wasting his time."
In a statement, Down District Council said: "A fixed penalty notice was issued for an offence under The Litter Order.
"The fixed penalty was not paid and council had no option but to prosecute for the original offence of depositing litter.
"At the hearing on Monday 1st October the Magistrate upheld the Council's case and imposed a fine of £150.00 and costs of £94.00 to Council against the defendant."