Hazel Stewart has psychiatric assessment but appeal bid delayed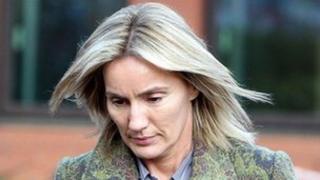 Double killer Hazel Stewart, 49, has now undergone psychiatric examinations, a court has heard.
But her appeal against verdicts that she murdered her husband and the wife of her ex-lover may be delayed.
Her lawyers are expected to wait for the report next month before deciding whether to seek to have fresh evidence admitted.
Stewart is appealing a verdict that she plotted with Colin Howell to kill their respective spouses 21 years ago.
Murdered
The mother-of-two was jailed for a minimum of 18 years for the murders of her husband, Trevor Buchanan, 32, and 31-year-old Lesley Howell.
The victims were found in a fume-filled garage in Castlerock, Co Londonderry, in May 1991.
Police originally believed they had died in a suicide pact after discovering that their partners were having an affair.
They were, in fact, murdered before their bodies were arranged to make it look like they had taken their own lives.
It took nearly two decades for the truth to emerge when Howell, 52, suddenly confessed to both killings.
He pleaded guilty to the murders in 2010 and is serving a minimum of 21 years in prison.
Howell also implicated his former lover in the plot and gave evidence against her at her trial.
Overturn
In March last year a jury at Coleraine Crown Court found Stewart guilty on two counts of murder.
During the trial the prosecution alleged she knew about the plan in advance and actively facilitated her husband's killing by ensuring he was drugged and allowing Howell into her home.
She also disposed of evidence including the hose pipe used to gas their spouses, it was claimed.
Stewart was due to undergo psychiatric examinations and psychological assessments earlier this year as part of her attempt to overturn her convictions.
But judges in the Court of Appeal were told of delays in getting a medical expert to carry out the process.
Defence barrister Mark Reel said: "That consultation has now taken place."
He added that the expert's report would be received in time to confirm next month whether an application for fresh evidence would be made.
Lord Chief Justice Sir Declan Morgan listed the case for a further review on 9 November.