Exhibition at Dublin gallery commemorates Irish history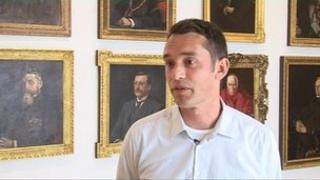 With both parts of the island of Ireland preparing to commemorate a decade of centenaries, ranging from the Ulster Covenant to the 1916 Easter Rising, a Dublin art gallery is showing an exhibition that it hopes will make events of 100 years ago come alive.
The Hugh Lane Gallery, near Dublin's O'Connell Street, has a distinctive artwork outside - the moving dots of a woman perpetually walking captured on a giant digital screen.
Inside there are some distinctive paintings too.
Works by well known artists Sir John Lavery, Sean Keating, Jack Butler Yeats, and Sir William Orpen.
There are portraits of well-known people from a hundred years ago, people who made their mark on Irish history.
John Redmond, the Home Rule campaigner hangs beside his foe, Edward Carson - both stern-faced.
James Craig, later Lord Craigavon and Northern Ireland's first prime minister, a youngish Winston Churchill and the royal family are all there.
Logan Sisley from the gallery hopes that visitors will get a broader understanding of Irish history from the exhibition.
"There are a few people maybe that have been lost to history that we've put back on the walls again, but there's also an understanding of the vibrancy of Irish cultural life at the time - both the writers and the artists," he said.
"There was a huge surge in creativity in the early 20th century."
That creative surge included the likes of poets like William Butler Yeats and the playwright George Bernard Shaw, both Nobel Literature prize winners.
Inscriptions
The exhibition includes a painting of Yeats and a bust by Rodin of Shaw.
There is also a bust of the trade union leader, Jim Larkin, and campaigners for women's voting rights, Thomas and Anna Haslam are also celebrated in a painting by Sarah Cecilia Harrison.
The lives of ordinary people are also celebrated - Paul Henry's Potato Digger with its distinctive red figure of a woman - on loan from the Ulster Museum - and Sean Keating's brown-tinged Fisherman and His Wife from the Aran Islands holding up their catch.
In marked contrast, is Countess Markievicz, captured in jewels and an evening gown before she turned against her class and tradition and became an Irish revolutionary.
Visitors say a deep knowledge of Irish history is not necessary to appreciate the exhibition, but one man told me he would like to see little inscriptions beside the portraits telling the viewers a little more about what happened to the subjects in later life.
The exhibition titled Revolutionary states: Home Rule and Modern Ireland, is free and runs until 21 October.