UKIP to field NI candidate in European elections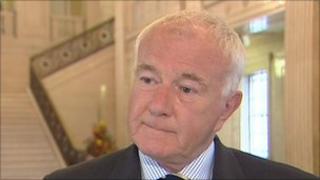 UK Independence Party leader Nigel Farage has announced the party will stand a candidate in Northern Ireland for the next European elections.
"We intend to top the poll in every region of the UK," said Mr Farage at a news conference in Belfast on Friday.
Mr Farage was at Stormont to welcome former Ulster Unionist David McNarry to the party.
Mr McNarry will be the party's first representative in any of the UK's devolved assemblies.
Asked if he had mixed feelings about the move, having been in the UUP most of his adult life before an acrimonious fall-out, the Strangford MLA said: "I am a politician, I am a professional politician and as far as I am concerned I am on the way up.
"I am not associated with anybody or anything that's in decline, and you best understand that. I'm on the way up."
'Big signal'
Mr McNarry said any of his former colleagues in the UUP would be welcome in Ukip.
He added: "I have not defected from anyone, I have willingly joined - the choice was mine."
Mr Farage said the development was proof that Ukip was a "truly, genuinely national" party, accusing other political parties of ignoring Northern Ireland.
"I think the fact the Westminster parties have completely given up on Northern Irish politics and the fact that we are now here today, we are sending a very big signal: we are a unionist party, we are a unionist party that wants to be involved in all the different corners of the United Kingdom," he said.
Mr McNarry, 64, fell out with the leadership of the Ulster Unionists in January after giving a press interview in which he talked up the prospect of the UUP joining forces with its main rival, the Democratic Unionists.
Disciplinary action by then-leader Tom Elliott prompted the MLA to resign from the party's assembly grouping. He was subsequently expelled from the party outright.