Earl of Shaftesbury does not rule out Lough Neagh sale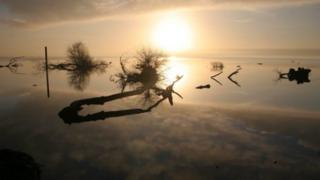 The Earl of Shaftesbury, who owns Lough Neagh, has said he has not ruled out selling it to the NI Executive.
A working group has been set up at Stormont looking at the possibility of bringing the lough into public ownership.
The lough is the biggest fresh water lake in Ireland and Britain, 20 miles long and nine miles wide.
Lord Shaftesbury told the BBC he would listen to all sides of the story to make the right decision.
"We're not putting the lough up for sale but if the assembly was to make an offer we're not definitely going to say no," he said.
"I think what we want to do is do the right thing for the people living there."
Lough Neagh supplies 40% of the water used in Northern Ireland and it is home to industry, business and tourism generating millions of pounds.
The earl, Nicholas Ashley Cooper, does not have control of the water, his ownership only applies to the bed of the Lough.
He said he had already contacted the Stormont working group and asked for a meeting which he hoped would happen soon.
"It's about discussing all the issues and I think taking an opinion after everyone's had their say.
"It affects the lives of a huge amount of people and I think it's important to recognise all those views and then see what the appropriate strategy is going forward."
The earl is 31 and inherited the title as a result of a double family tragedy. First his father, Anthony, was murdered in France in 2004 at the behest of his third wife.
Nicholas' brother, Anthony, then became the successor but, within months, he died from a heart attack while visiting Nicholas, in New York.
The earl said some people he had talked to liked the current system, while others wanted it to change.
"But I think also the ownership isn't the only issue here," he added.
"I think the wider issue potentially is how to manage it and how to get the best out of it and how to some of the issues that were raised in the debate - pollution, navigation development."