Forensic chief's 'surprise' at no prosecutions after bomb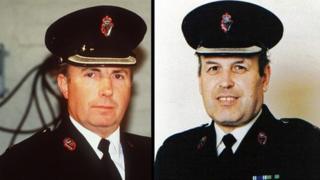 The former director of the Irish Republic's forensic state laboratory has told the Smithwick Tribunal of his "surprise" that no-one was prosecuted for the Narrow Water bomb attack.
Eighteen British soldiers died in the IRA attack near Warrenpoint, County Down, in August 1979.
The bombs were detonated from a site in County Louth in the Irish Republic.
Gardai arrested two men near Omeath shortly after the attack. They were never charged.
The tribunal has previously heard that there was no evidence to hold the men, Brendan Burns and Joe Brennan, for anything other than motoring offences.
The RUC was only told sometime later that they had been released.
The Dublin-based tribunal heard evidence on Thursday from Dr James Donovan, the founder and former director of the Irish state forensic laboratory.
During cross-examination on the forensic aspects of the Narrow Water investigation he questioned why the two men were never prosecuted.
"Why was the Criminal Prosecution Act not used," he asked.
"I thought the evidence was good on the basis that they gave false name and addresses, they were arrested on a motorcycle that had been near the scene of the detonation."
Dr Donovan also outlined the details of other forensic material.
"There were cigarette butts, saliva samples, one of them had fern material in his underpants," he said.
"Go to the law library and you would not find many with fern in their underpants.
"On summation the evidence was quite good."
Lord Mountbatten
The Smithwick Tribunal is investigating allegations of garda collusion in the IRA murders of two senior RUC officers.
Chief Superintendent Harry Breen and Superintendent Bob Buchanan were shot dead in south Armagh in March 1989.
The Narrow Water attack happened on the same day that the Queen's cousin, Lord Mountbatten, was killed in an IRA bomb blast on his boat at Mullaghmore, County Sligo, in the Irish Republic.
One of the earl's twin grandsons, Nicholas, 14, and Paul Maxwell, 15, a local employed as a boat boy, also died in the explosion.
"It was during the post-mortem of Lord Mountbatten that I got word that something had happened at Narrow Water and all those British soldiers were dead," said Dr Donovan.
Brendan Burns was killed in 1988 when a bomb he was transporting exploded prematurely.
Joe Brennan was arrested in Northern Ireland in 1995 and later convicted on bomb-making charges relating to other incidents.