Thousands of illegal prescription drugs seized in Northern Ireland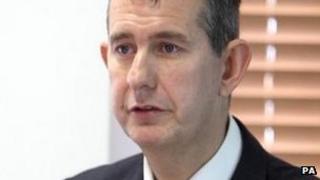 Tens of thousands of illegally imported and unauthorised prescription drugs, destined for Northern Ireland addresses have been seized.
They were seized as part of Operation Pangea V, an international initiative targeting the illegal internet trade in such products.
Drugs recovered in NI included more than 55,000 benzodiazepines.
Pain relief medicines and unidentified psychoactive substances were also confiscated.
Health Minister Edwin Poots made the announcement on Thursday as he launched a publicity campaign to increase public awareness of the dangers of medicines available on the internet.
He said the "risk to the public due to illegal or counterfeit medicines cannot be understated" and the issue could not be tackled by the Department of Health "in isolation".
"This campaign shows the stark reality of buying medicines online," he added.
"The message is clear, it could cost you your life."
A total of 100 countries and 193 agencies participated in Operation Pangea V. It ran from 25 September to 2 October.
Peter Moore, coordinator of Operation Pangea V activities in Northern Ireland, said it was "crucial" that people realised that it was not "wise to bypass the properly regulated system".
"Illegal suppliers have no quality control or standards," he added.
"I urge the public not to be tempted by cut prices or fooled by professional looking websites offering medicines without prescription.
"Taking short cuts could expose you to a dangerous counterfeit or substandard medicine and on top of that you could be the victim of identity theft or credit card fraud."
Benzodiazepines include diazepam and temazepam, and are commonly prescribed by GPs for a range of conditions such as anxiety and insomnia.