Strangford MLA David McNarry joins UK Independence Party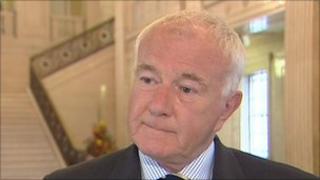 Former Ulster Unionist David McNarry has joined the UK Independence Party after leaving the UUP in acrimonious circumstances earlier this year.
UKIP leader Nigel Farage said the addition of the sitting Strangford member made the party "fully national".
"We extend a very warm welcome to David McNarry, a man of vast political experience," he said.
"It shows that UKIP is now a fully national political party."
UKIP currently has 12 MEPs.
This will be the party's first representative in any of the UK's devolved assemblies.
Mr McNarry, 64, has sat as an independent since his expulsion from the Ulster Unionist Party in May.
The decision was taken by the party following a disciplinary committee investigation into complaints against Mr McNarry.
At the time, Mr McNarry said he was hurt but would continue as an independent MLA.
Mr McNarry resigned the UUP Stormont whip in January after the then party leader Tom Elliot demoted him from the deputy chair of the education committee.
He also resigned from the party's assembly group, but remained a party member.
Mr McNarry's fall-out with Mr Elliot came after Mr McNarry gave an interview to the Belfast Telegraph detailing discussions between the UUP and DUP about unionist unity.
After Mike Nesbitt replaced Mr Elliot as party leader in March he said: "I cannot imagine any circumstances under which David McNarry would be back in the Ulster Unionist assembly group of MLAs when I have control of the whip."
Mr Farage and Mr McNarry are set to hold a press conference at Parliament Building, Stormont, on Friday.