Millie Martin death: Trial hears from doctor and anaesthetist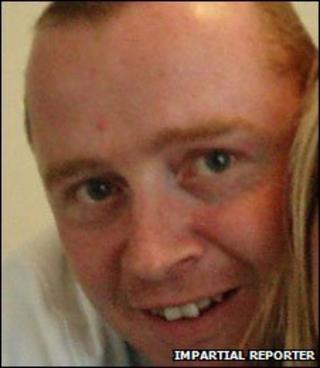 Enniskillen toddler Millie Martin was brain stem dead almost the moment she arrived in the Erne Hospital.
The opinion was given by a senior anaesthetist at the trial of her mother and her former boyfriend Barry McCarney.
Another doctor told the court she was so worried by the range and nature of Millie's injuries she contacted the police and social services.
Mr McCarney is charged with murdering the toddler.
Milllie's mother, Rachael Martin, from Kesh, is accused of cruelty and allowing the infant's death.
The doctor and senior anaesthetist gave their evidence during proceedings at Dungannon Crown Court on Thursday.
Senior anaesthetist Matt Cody told the trial he had examined Millie on the night she was rushed into hospital.
He said he could elicit no brain stem reflexes and he concluded in his own mind that she was brain stem dead.
Although Dr Cody spoke of "stabilising" baby Millie so she could be transferred to the only intensive care unit in Northern Ireland for children, the Royal Victoria Hospital for Sick Children in Belfast, he confirmed that by that time there was neither any improvement nor deterioration in her condition.
"After that time there was no change, other than manipulation of her blood pressure... there was no change in her condition," he said.
Another medic, the senior resident doctor who tried to revive the infant, said she appeared to be so "deeply unconscious" there was no need to sedate her before putting her on a ventilation machine to keep her breathing.
No response
Dr Chris Guz explained that patients often reacted as the breathing tube of the ventilator was placed in their air passage.
However, in baby Millie's case there was no need to put her asleep, and that her pupils were fixed and did not respond to light.
"She did not have any form of medication to sedate her....there was no need for that," said Dr Guz.
Dr Cody said he had been given no past history of the toddler's medical history, but that he was aware of the severity of her injuries.
Earlier, Dr Rheem Mabrouk, who was the first doctor to see the toddler on the night she died, told the court she was so worried by Millie's injuries when she was admitted to hospital, that she immediately contacted police and social services.
She said that when she told Millie's mother this, she had asked her how the injuries could have happened.
The doctor told her she didn't know but that she believed they had been inflicted.
The toddler died on 11 December 2009, a day after she was admitted to hospital in Enniskillen with serious injuries.
Mr McCarney, 33, from Trillick, denies murdering and sexually assaulting the 15-month-old.
Ms Martin from Kesh, also denies the charges against her.
The trial opened at Dungannon Crown Court on Wednesday and is expected to last for eight weeks.
It is scheduled to hear evidence from 113 witnesses.
The prosecution alleges Mr McCarney was responsible for causing Millie's injuries and that his ex-partner Ms Martin "wilfully closed her eyes to what she knew or ought to have known was happening".