Quinns 'defied orders' Sean Quinn Jr court told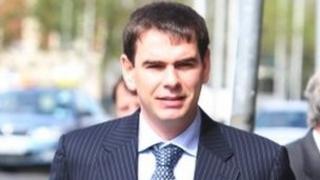 Members of the Quinn family continued to defy High Court orders right up until their recent court case, a court in Dublin has heard.
The claim was made by counsel for the former Anglo Irish Bank during the third day of an appeal by Sean Quinn Jr - the jailed son of a billionaire.
Mr Quinn Jr, whose father Sean Quinn was once the richest man in Ireland, is appealing against his imprisonment for contempt of court.
Five judges are hearing the case.
On Thursday, lawyers for the former Anglo-Irish bank said they did not accept the Quinn family's claims that they no longer had control of 430m euro worth of international property.
The bank's lawyers said they had recovered the hard drive from a Moscow computer that had been deliberately smashed.
Information on it showed that members of the Quinn family were to be paid tens of millions of euro each, if employment contracts with Russian companies were terminated.
They said the Quinn family had argued they no longer had any control over any of these companies.
Lawyers said this new evidence was relevant to Sean Quinn Jr's credibility, his intention and as proof of non-disclosure.
Contempt
Mr Quinn Jr was jailed in July.
He was sentenced when a judge ruled that he, his father, and cousin Peter Darragh Quinn, were in contempt of court for putting millions of pounds worth of international property beyond the reach of the former Anglo Irish bank.
The Quinn family is locked in a bitter legal battle with the bailed out bank, which is now controlled by the Irish Bank Resolution Corporation (IBRC)
At the height of his success, Sean Quinn Sr from Fermanagh, was the 12th richest man in the UK.
The family controlled businesses worth billions of pounds and employed thousand of people.
In April 2011, control of the Quinn business empire passed into the hands of the IBRC.
The IBRC claims the Quinns owe it about £2bn following the collapse of Anglo Irish bank.
It is trying to recover the money from their property assets on behalf of Irish taxpayers.