Labour's Coaker makes vow on NI reconciliation talks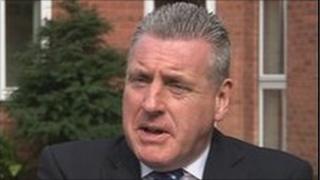 Labour would help set up reconciliation talks to deal with the legacy of the Troubles, shadow Northern Ireland Secretary Vernon Coaker has said.
At his party conference in Manchester on Thursday, he accused the government of stalling the process by refusing to facilitate talks between the parties.
He would have "heeded the call" from victims and survivors, but the government had done nothing, he said.
Mr Coaker said many communities in NI were still "deeply divided".
"Sectarianism is an ingrained and uncomfortable truth across all sections of society.
"A shared future can only happen through building shared spaces and shared experiences with shared prosperity and shared responsibility," he told delegates.
"That includes taking responsibility for what happened in the past. Because we need to deal with the legacy of Northern Ireland's Troubles, the death of 3,000 people and injuries and trauma for tens of thousands more.
"We can't truly move forward until we do."
Mr Coaker called for a comprehensive, inclusive process to deal with the past which put victims and survivors at the heart of it.
"Even when the Assembly asked the secretary of state to help facilitate talks between all parties, they (the government) did nothing," Mr Coaker said.
"If I'd been in that position, I'd have heeded the call of political parties and victims and survivors in Northern Ireland and convened talks to discuss how we move forward. That's the way to do it.
"Because unlike the do-nothing Tories, I won't hide away or shirk my responsibility on this or any other issue, and neither will any future Labour government."