Millie Martin murder trial: Barry McCarney 'told police he thought the child was choking'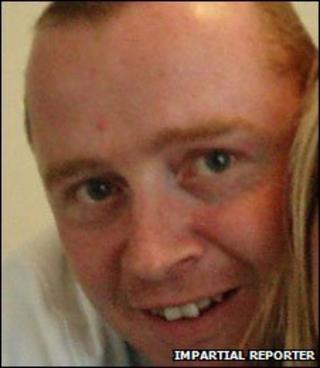 A man accused of murdering a County Fermanagh toddler told police he hit her because he believed she was choking, a trial has been told.
Barry McCarney, 33, from Trillick, is charged with murdering the 15-month-old Millie Martin in Enniskillen in 2009.
Millie's mother, Rachael Martin from Kesh, also stands accused of child cruelty and allowing her death.
The court heard that the state pathologist believed Millie "had been recently sexually assaulted".
The toddler died on 11 December 2009, a day after she was admitted to hospital in Enniskillen with serious injuries.
The prosecution alleges that Mr McCarney was responsible for causing those injuries and that his ex-partner Rachel Martin "wilfully closed her eyes to what she knew or ought to have known was happening".
On the opening day of the murder trial at Dungannon Crown Court, prosecution lawyer Ciaran Murphy QC said that Mr McCarney was initially arrested on suspicion of sexually abusing Millie, but following the toddler's death, the defendant was questioned by PSNI detectives over a three-day period.
'Resuscitation'
The barrister said Mr McCarney told police that on the day he had rushed Millie to hospital he had finished work earlier because he had felt unwell.
Later that evening, after Rachel Martin had gone shopping, he went to check on the infant.
Mr McCarney allegedly told police he found the child gasping, and that when she stopped, he thought something must be caught in her throat, so he put his fingers into her mouth in an effort to clear any blockage.
When Millie did not respond, Mr McCarney in his own words told police that he put her on the floor and started "hitting her...you know...on her back".
At one stage he gave the child mouth to mouth resuscitation, and pumped her chest a few times, before rushing to a neighbour's house with Millie in his arms.
As they drove to the hospital, Mr McCarney claimed he continued to try and revive her and "poked her in the chest" until they reached the Erne Hospital.
The prosecution barrister said that as they drove to the hospital, Mr McCarney's neighbour ordered him to stop "slapping the child".
'Severe impact'
Mr Murphy said that it was the opinion of state pathologist, Prof Jack Crane, having reviewed the evidence of a number of specialist consultants who had treated Millie, and later examined her remains, that the child had died from head injuries.
The pathologist reported that there was "unequivocal evidence" of severe impact injury to the back of the skull, with other possible injuries to the front and side of the head.
Mr Murphy said that Prof Crane detailed other injuries, including fading bruising to the chest, stomach, elbow, with healing fractures to six right ribs, and five on the left, "caused by the chest being forcibly grabbed or squeezed".
The court heard that some of these fractures were up to four weeks old, while others had possibly been sustained within ten days of her death.
The lawyer also revealed that Prof Crane was also of the opinion that "Millie Martin had been recently sexually assaulted".
'Non-accidental'
Mr Murphy said that one medical expert who had examined the fractures to Millie's ribs, claimed the force required to cause such injuries was akin to something "like a road traffic accident".
The Scottish consultant reported that Millie's rib injuries were non-accidental and that, since it was difficult to injure the ribs of a 15-month-old infant, they must have been caused in Millie's case by "severe gripping or squeezing".
Mr McCarney denies murder, causing the death of a child by an unlawful act, sexual assault of a child and causing grievous bodily harm.
Rachel Martin has pleaded not guilty to allowing the death of a child and child cruelty.