NI Fire Service manager 'ran own business' selling uniforms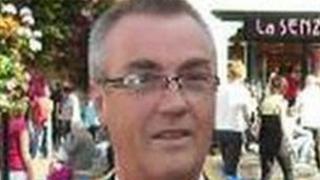 A senior member of the NI Fire Service was allowed to run a private business selling uniforms and other protective equipment while he was in charge of buying them for the service.
He was John McGrath, a stores manager, with responsibility for ordering uniforms and other personal protective equipment.
He died in November 2009.
The Fire and Rescue Service said it was satisfied there had been no conflict of interest.
The people who manage the fire service have been under the spotlight, rather than the lifesaving actions of firefighters.
Mr McGrath's business was called Benco Agencies and although his name did not appear on any of the publicly-available company documents, his wife and one of his daughters were listed as the shareholders and directors.
Tendering
Benco had some significant customers including the UK's biggest airport operator, BAA, and Belfast's Harbour Police.
However Benco did not do business with the NI Fire Service.
Just weeks before his death, Mr McGrath signed a significant contract with BAA.
Between 2003 and 2009, Benco sold almost £132,000 worth of uniforms and equipment to Belfast Harbour Police.
Concerns
While Mr McGrath's name did not appear on the company's literature, several companies we have spoken to told us that when they did business with Benco they only did business with Mr McGrath.
The BBC understands that some concerns were raised within the service about Mr McGrath's business.
In relation to Benco and Mr McGrath, the Fire Service said its ordering of uniforms was done by "placing purchase orders through the National UK Fire Service and local procurement frameworks".
It added that all orders were "subject to the appropriate level of approval from the director of technical services, the chief fire officer and the sponsoring government department, DHSSPS."
In recent months, the Fire Service began an audit in an attempt to trace hundreds of uniforms via its computer system, as stock supplies of certain items had been running low.
This involved paying staff overtime in an attempt to tally uniform numbers and locate other items.
Separately, a Department of Health internal audit is carrying out its own investigations, including the movement of stock.
Whistle-blower
The problem was first brought to the Department of Health's attention a couple of years ago when a whistle-blower alleged that there was a serious issue regarding the supply of uniforms.
Among the questions raised will be why was Mr McGrath allowed to operate a business so similar to his fire service duties?
The detail has emerged against a backdrop of strong criticism about the way the service was managed over a number of years and the appointment of a new interim chief executive from Scotland.
It is the first time in Northern Ireland that a non-uniformed officer has taken up the post.
Considering there have been three chief fire officers in as many years, it is hoped that the appointment of Jim Wallace will help bring stability to the organisation.