Millie Martin death: Barry McCarney murder trial opens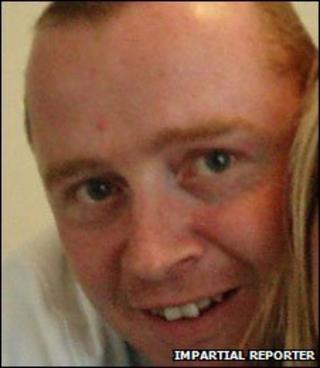 The trial has begun of a man accused of murdering Enniskillen toddler Millie Martin in December 2009.
The mother of the 15-month-old baby girl also stands accused of child cruelty and allowing her daughter's death.
Barry McCarney, 33, from Trillick, sat in the dock alongside his former partner Millie's mother, Rachel Martin, 27, from Kesh.
The trial at Dungannon Crown Court is expected to last up to eight weeks.
The two accused listened as a lawyer opened the prosecution case against them.
Ciaran Murphy QC said Millie had been the victim of serious physical abuse, a sexual assault and a significant head injury which caused her to die.
The prosecution alleges that Barry McCarney was responsible for causing those injuries and that Rachel Martin "wilfully closed her eyes to what she knew or ought to have known was happening".
A summary of the medical evidence and injuries suffered by Millie was given to the court, evidence that Judge Mr Justice Stephens warned the jury of nine men and three women they may find distressing.
The prosecution alleges Millie suffered fractured ribs some of which were caused about four weeks before her death.
They claim injuries to her abdomen were the result of punching or prodding.
She had also been the victim of a recent sexual assault.
Head injury
On the evening of 9 December 2009 shortly before Barry McCarney brought Millie to the Erne Hospital in a lifeless state, the prosecution say she suffered a severe head injury which caused her death.
Mr Murphy QC alleged that the abuse began around the time of Millies' first birthday in September 2009, when Rachel began a relationship with Barry McCarney.
He said Rachel Martin had done nothing to seek intervention and that the injuries Millie had "were too significant, too severe and too many" for her not to have known Millie was being abused.
Had she taken steps to remove Millie from Mr McCarney's presence, the prosecutor said "this child would not have died".
Mr McCarney denies murder, causing the death of a child by an unlawful act, sexual assault of a child and causing grievous bodily harm.
Rachel Martin has pleaded not guilty to allowing the death of a child and child cruelty.