NIPSA legal bid to halt hiring of temporary staff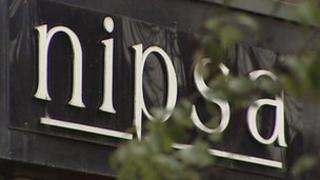 Northern Ireland's largest public sector union is taking legal action to stop police hiring around 1,000 temporary staff in a £180m contract.
NIPSA claims the use of external contractors to provide support staff services is unlawful.
The union represents more than 1200 civilian staff who work for the PSNI.
It has described the policy of rehiring of hundreds of retired RUC officers as temporary agency staff during the past 10 years as 'jobs for the boys'.
Now it is opposing a plan by the Chief Constable to use an employment agency to supply around 1,000 temporary staff for a range of support roles.
NIPSA is seeking a judicial review of the decision, on the grounds that it is unlawful.
The police say their recruitment policy is fully compliant with the law, and that they will robustly reject the NIPSA challenge.
The government's spending watchdog, the audit office, will tomorrow publish the findings of an investigation into the PSNI's use of agency staff.