Kieran Murphy and Laurence McAllister convicted of drug smuggling bid in Scotland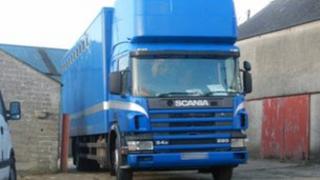 Two men from Northern Ireland have been convicted in Scotland of attempting to smuggle cannabis worth up to £750,000 into Belfast.
Kieran Murphy and Laurence McAllister were described as being "near the top of the drug dealing tree" at the trial.
The drugs were found by police at Loch Ryan ferry port when they searched a lorry the pair were travelling in.
Murphy, originally from south Armagh, and McAllister, from Kells, County Antrim are in jail awaiting sentencing.
The lorry, which was used to transport horses, was driven by Murphy, an unemployed plasterer who now lives in Rathfriland, County Down.
McAllister, a horse dealer, was with him in the vehicle when they were stopped by officers at the ferry port in April.
The trial in Kilmarnock was told that the pair had been intending to board a ferry to Belfast.
The police found four large bags filled with cannabis resin between two occupied horse stalls in their lorry.
It had been divided into 25 one-kilo bags and covered with molasses to mask the smell.
In a statement, Dumfries and Galloway police said the haul was worth £250,000 in Scotland but would have had a potential street value of three times that if it had been unloaded in Belfast.