Jury discharged in Fr Peter Donnelly abuse trial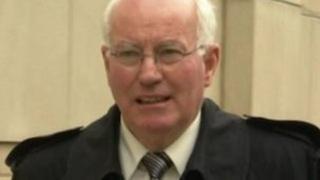 The jury has been discharged in the trial of a priest accused of sexually abusing a young girl almost 30 years ago, after failing to reach a verdict.
Fr Peter Donnelly, from Castlewellan, denies six counts of indecent assault and one of gross indecency.
The alleged victim claimed it happened at the parochial house of St Matthew's Church, Belfast, where he was curate.
The jury foreman told the judge there was no prospect of them agreeing on a verdict.
They were called back into Belfast Crown Court after deliberating for three hours.
Judge Gordon Kerr QC told them he would accept a majority verdict.
However, they were discharged after the foreman said in a note to the judge there was a stalemate.