Bank of Ireland apologises for bank card payments problem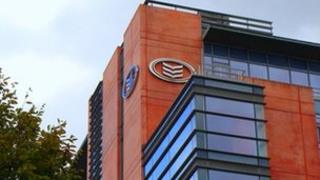 The Bank of Ireland has apologised to customers in Northern Ireland whose payments were declined in shops when they tried to use their Maestro cards.
The bank said there had been an issue for a small number of customers whose transactions were being refused.
A shopkeeper in Newtownards even decided to stop accepting the cards.
William Gilliland who owns a clothes shop said the cards kept being declined even though customers had money in their accounts.
He said problems began about five weeks ago and had affected several dozen customers.
"We have had to put up a sign saying we cannot take Bank of Ireland cards and this is embarrassing for us," he explained.
"In a time of recession, it is very off putting for a customer and could be a stumbling block to finishing off the sale."
In a statement, Bank of Ireland said it was sorry for the inconvenience to both customers and retailers.
It said customers should not currently be experiencing any problems with transactions.
"Bank of Ireland is working with its third party supplier to monitor the situation and ensure that it does not recur," the statement said.
"Bank of Ireland can confirm that this issue does not affect Bank of Ireland ATM or Post Office cards or credit cards."