ESA education bill proposes independent tribunals to sort school disputes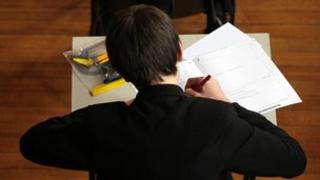 A new Stormont education bill contains proposals for the creation of independent tribunals to resolve disputes between schools and the new Education and Skills Authority (ESA).
The ESA will have the power to set guidelines for schools.
The First and Deputy First Ministers Office will have a role in appointing tribunals should any disputes arise.
However, the bill makes it clear that school governors retain the right to set their own admissions criteria.
The measure could be interpreted as a safeguard to ensure those schools which wish to use academic selection will remain free to retain their own criteria.
'Bureaucratic monster'
The education bill, which was published on Tuesday, outlines plans for the ESA, the management of grant-aided schools, school inspections, the CCEA as well as the protection of children and young people.
The creation of the ESA is part of the Review of Public Administration (RPA), a reform programme aimed at reducing bureaucracy and streamlining public services.
The new, single authority is being set up to replace five regional education and library boards across Northern Ireland.
The Ulster Teachers Union said the plans outlined in the education bill represented the biggest change in local educational administration for 40 years.
However, the union said potential savings made by the establishment of the ESA should be "re-directed to classrooms".
UTU general secretary, Avril Hall Callaghan, said the new authority "must not be allowed to become a bureaucratic monster that churns out targets and issues ultimatums".
Cuts
She added: "To date ESA has cost the system around £12m - money which could have funded, for example, jobs for about 450 newly qualified teachers, or been used to ease the swingeing cuts facing classrooms.
"At a time when education cuts are having a detrimental effect on pupils' learning due to the squeezing of school budgets, an increase in class sizes, teacher redundancies and closure of schools, we need to ensure that there are no further hold-ups."