Irish TV ad 'all about Sinn Fein agenda' says Campbell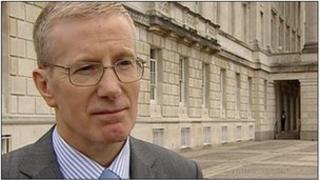 DUP MLA Gregory Campbell has accused the education minister of putting Sinn Fein's agenda over young people's education by running a TV ad in Irish.
"Is this a politically motivated attempt to promote something only in Irish?" the DUP assembly member asked.
He also accused John O'Dowd of going against his civil servants' advice by running the Irish advertisement.
But Mr O'Dowd said this was untrue. "The Civil Service have never advised me not to do this," he said.
The "Get Involved" advertisement in Irish ran on UTV on Monday evening.
Mr Campbell said Mr O'Dowd was putting his party's agenda ahead of young people's education.
"The campaign in English should be more than sufficient," said Mr Campbell who represents East Londonderry.
"Why should the taxpayer be expected to stump up thousands of pounds to people who can already speak and understand English?"
Mr O'Dowd said he had launched a campaign about valuing education which involves the community and family in the education of younger siblings.
"For every 10 advertisements in English, one will run in Irish," he said.
"Irish language people pay taxes and they have rights. I don't have any Ulster Scots schools in my portfolio. I have numerous Irish medium schools in my portfolio. Thousands of pupils attend them every day and thousands have graduated from them.
"We have a responsibility under legislation, under the European Languages charter and I will continue to use resources properly to promote the use of the Irish medium sector."