More truancy in Protestant areas says Roy Beggs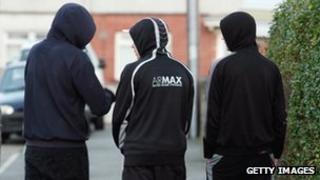 Figures show that the problem of absenteeism from post primary schools is concentrated in Protestant areas, an MLA has said.
Ulster Unionist Roy Beggs said that 26 out of 30 electoral wards with the poorest record of non-attendance had a mainly Protestant population.
The figures come from the Northern Ireland Statistics and Research Agency (NISRA), Mr Beggs said.
He is tabling a motion in the assembly later calling for urgent action.
"I am very, very disturbed by what I have had to unearth and bring into the public domain," Mr Beggs said.
"The group that is least reaching its potential is Protestant working-class boys."
He said while truancy was a problem in nationalist areas too, the fact that 26 out of 30 electoral wards with the poorest record had a mainly Protestant population showed "it is clear there is something specifically going wrong in those areas".
Mr Beggs said the value of a good education had to better appreciated in some Protestant working-class areas.
"I think there has been probably a lack of recognition of the importance of education in some of those areas," he said.
"The community itself must get to the stage where they value education.
"There undoubtedly has been a relatively weak community infrastructure in deprived unionist areas and with that weak community infrastructure the ability to bring down our FE colleges and further education opportunities is diminished."
Professor Tony Gallagher, one of the authors of a recent report on under-achievement by Protestant boys in Northern Ireland, said the truancy problem had to be addressed.
"It's absolutely something the politicians ought to be looking at," he said.
"If we had better quality data three interventions could be much better targeted."
The Department of Education said attendance rates in Northern Ireland's schools were "very good" - 95% for primary schools and 93% at post-primary schools.
It said there was, however, a link between attendance and deprivation as shown by the correlation between absence rates and free school meal entitlement.
"A research study to identify strategies which have been successful in improving attendance in schools serving disadvantaged areas has recently been completed," it added.
"Department officials will be working with the Education Welfare Service and schools to develop guidance for schools based on the findings of the research."