Review into GCSE and A-level qualifications in Northern Ireland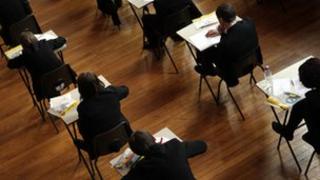 Stormont's Education Minister, John O'Dowd, has launched a "fundamental review" of GCSE and A-level qualifications in Northern Ireland.
It follows recent grading controversies and an announcement by the UK Education Secretary, Michael Gove, that GCSEs are to be abolished in England by 2017.
At the time, Mr O'Dowd criticised the move and said Mr Gove's remarks about standards since taking office "may well have fatally flawed the GCSE brand".
The review will be completed by June.
The GCSE pass rate in the UK has risen every year since the exams were introduced in 1988 and the education secretary is on record saying that there has been "grade inflation".
When he announced his decision to replace English GCSEs with the English Baccalaureate Certificate last month, Mr Gove said that "while pass rates have soared we have fallen down international education league tables".
Education is a devolved matter in England, Scotland, Wales and Northern Ireland, but Mr O'Dowd said that Mr Gove's move to abolish GCSES for English pupils had "generated a lot of speculation about whether or not we should follow suit".
The Stormont minister said he wanted Northern Ireland's education system to be "internationally recognised as world class" but added that he did not want to "initiate change for change's sake".
He has now commissioned the Council for Curriculum, Examinations and Assessment (CCEA) to conduct a "root and branch review" of GCSE and A Levels in Northern Ireland.
Mr O'Dowd said the purpose of the local review was to "ensure that the attainment of our young people is rewarded and recognised in a way that is robust, fair, equitable and credible in the eyes of parents, teachers, business and industry and other education providers, including universities".
The CCEA has been asked to "identify the benefits of retaining GCSEs and A levels on a stand-alone basis in light of concerns about the future of the three jurisdiction arrangement currently in place".
In a statement, Mr O'Dowd's department said that over the past year, Mr Gove had "made a series of announcements about changes to the three jurisdiction qualifications system without seeking the views of the devolved administrations".
This year, more than 7,000 Northern Ireland students sat their GCSE English exams with boards based in England or Wales.
After they received their results, England's exams watchdog, Ofqual, launched an investigation after it was revealed that grade boundaries for the exams were changed part way through the year.
It found the marking of the June exams was fair, but that the marking of exams taken earlier in the year was too generous.
It refused to order exam boards to regrade the papers but offered early re-sits in November for students unhappy with their results.